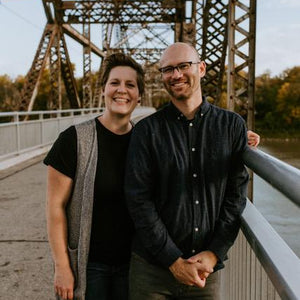 "Our customers connect with our work on different levels. Sometimes its the type of tree that carries importance, other times it is where it came from."

Pam & Darren, Nice Art People
What's the story behind your shop's name?
It is general enough that our creativity can take whatever path it likes. It doesn't take things too seriously. It can be interpreted however one wants, just like art. Our good friend came up with the name and it checked all the boxes for us, along with being unique.
Where in Manitoba do you make these products?
Made in Winnipeg
How does your product connect with your customer or community?
The importance of place, belonging and memories are a big deal for a lot of us. I think the fact that right now we have ended up making tree rings and maps makes a lot of sense. They both speak to places that are important; we find meaning and belonging in these ways. Our customers connect with our work on different levels. Sometimes its the type of tree that carries importance, other times it is where it came from. And for many people, there is a feeling they get from looking at a specific set of rings and the story it carries in its shape.
What sparked your decision and motivated you to start becoming a maker?
We have always practiced making and being creative; but this specific venture came about naturally - all because of a tree...
It was several years ago when our next door neighbours had a huge oak tree cut down by mistake. The tree removal company had got the address wrong, and it wasn't caught in time.
The tree was over 100 years old, and it was a huge disappointment to our friends and us. The wood was cut up and our neighbours kept it in their yard.
A couple years after that, they moved to Vancouver Island and gifted us the rest of the wood when they left. It was then that Darren had the idea to try making a print as a way to create a memory and gift for them. He had seen others do something similar and wanted to try it.
Our very first print was made by Darren (now we both are involved in the process) and he made only 4 prints. One was mailed to Vancouver Island and arrived for Christmas morning on our former neighbour's doorstep.
It has been an enjoyable and experimental process to continue to create the best prints possible. Starting Nice Art People was a natural way to focus the creativity we have always practiced.
What's the most difficult part about what you make?
Finding interesting pieces of wood to print (we only use salvaged wood), scraping out each tree ring as we prepare the log, and the physical work of burnishing (rubbing) a print onto paper (especially the big ones).
What are some of the typical impressions or interactions you have at markets and what are your responses?
We get asked a lot if our prints come in other sizes. So we spend a lot of time explaining our process in hopes of helping spread the appreciation of the many processes and forms of art. Each of our prints is pressed by hand and comes right of the piece of wood. They are made slowly and carefully, one at a time, in small batches. We try to find pieces to print in a variety of sizes and also species so that there is lots of choice!
We also love hearing all the things that people see when they look at our prints and all the stories of wonderful and meaningful places and trees that get told!
What does it mean to you to be apart of the Made Here shop?
The maker community in Winnipeg is thriving; there are so many great ways to share what we make with our city and province. Being supported and encouraged to be a part of Made Here has been meaningful to us as small makers, that we are doing something 'right'. But it also makes us proud to work towards something bigger for the good of others along side many other makers.