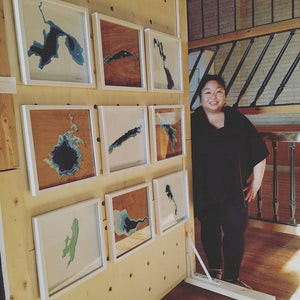 "I am awestruck by the beauty of the natural world, both in the seen and unseen (and sometimes forgotten). I try my best to capture those little wonders in my work."

Gail, Beautiful Mess Studios
Briefly describe for us, your business and about your products.
"Everything has beauty, but not everyone sees it" ~ Confucius
There is beauty in everything, even in all the ugliness that life might bring. My artwork is a result of my own healing journey, focusing on elements that instill joy or remind me of it. This is achieved by use of color, texture, and material manipulated to bring forward lost experiences and memories. Reminiscent of my days as a curious child, scientific study, and pastimes meandering through the woods, my work draws from these moments and brings them into the physical world.
What's the story behind your shop's name?
My life! It's chaotic. I've lived a life of so very many downs that not many can say, but also very many ups. It took me time to realize that all of it was part of life and what ultimately made things beautiful. It's that thinking that helps me keep going and to heal.
Where in Manitoba do you make these products?
Winnipeg
How does your product connect with your customer or community?
Memories made from things I've seen and places I've been and the observation of those things from a different perspective.
What sparked your decision and motivated you to start becoming a maker?
I've always been artistic, but it was a sideline in my life. It was therapeutic at times.
At one point, it was fruited out of necessity, when I "retired" from working 9 years as a scientist. I could no longer work the hours the industry asked of me. I was fortunate to be able to choose family first (many times), and with my husband's support (he's a nurse), I left my job. I then began to supplement the family income as an Educational Assistant (again), went back to university (again), and took a chance (with the encouragement of an artist friend) to sell my art and become a professional artist.
What do you love most about what you make and being a maker?
Creating the physical products of my imagination! Also when others enjoy my work. It never fails to surprise me when I receive a nice comment, a message, or an email, especially those from previous clients. Some emails have been so heart felt, expressing gratitude for the care I've put into a commissioned piece, or how a loved one cried as memories poured through them when they opened their gift. Those are priceless to me!
What's the most difficult part about what you make?
Scheduling my time to do the work in between life. The kids keep me busy. My work is often done in snippets of my day. I also work when everyone is in bed, often into the morning. Also gauging the worth of a piece of work against the time and effort I put in.
What are some of the typical impressions or interactions you have at markets and what are your responses?
I love sparking conversations with people about the environment, places to visit in Manitoba, and art. I've met so many lovely people and everyone is so friendly. I don't do many markets, but when I do, I approach it more like a meet and greet and welcome everyone to have a look at my pop up gallery. Seeing my work in person is very different from seeing pictures. I don't have much on hand with me when I go as the type of work I do isn't something you can just buy on the spot, but I do love the interaction, which is something I didn't get much of when I worked in the lab.
What was your biggest challenge you faced when starting your handmade business?
The business stuff. I wasn't trained in that, so it was a learning curve for me, but I felt it was something I could control. You either like my art or don't, and that's fine.
What advice would you give a maker who's just starting out?
Don't give up until you've done everything you possibly could for yourself and your brand. Be open to seek/accept advice/help when needed.
What does it mean to you to be apart of the Made Here shop?
Children and child advocacy hold a very special, and extra soft spot in my heart, so it felt like a natural connection.
Visit Beautiful Mess Studios' shop, Facebook page or Instagram feed.