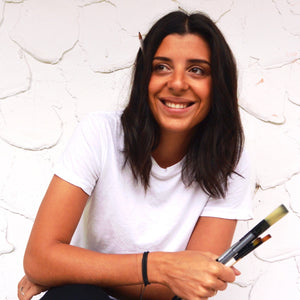 "I'm so inspired by the beauty of the prairies and it reflects in every piece of art I make."

Kristina, Dimi Gallery
Briefly describe for us your business and about your products.
Dimi Gallery is an art brand created by Kristina Dimitrova. Kristina is a local Winnipeg artist inspired by the beauty, colours, and pride of the prairies. Working with a wide range of media from watercolour to ink, she creates easy to hang art prints, maps, and postcards.
What's the story behind your shop's name?
Dimi was one of my many nicknames growing up and quickly became how I would sign my paintings; the rest is history. ​
What sparked your decision and motivated you to start becoming a maker?
I loved painting from a young age and took courses when I was growing up. When I bought my first house I had no money for good art, I wanted to break the stigma that art is only for the aristocrats so I started painting, first for myself, then for friends. Now it's all about the customers, seeing people get excited about something I made drives me to make more art. ​
What do you love most about what you make and being a maker?
Hands down the people I have met along the way. I also come from a background in science and art is a much needed creative outlet for me.
What's the most difficult part about what you make?
Turning down custom work is the most difficult thing for me. Two minds are always better than one and I love working with clients to create a custom piece they can cherish, but unfortunately I can only take on so many clients per year. ​
What's the most favourite thing you've made and why?
My very first bison painting titled "Three's Company" will always be special to me, it has inspired much of the style of art I do today, and is still referenced often. Three's Company is currently on display at the Marion Street Eatery. ​
How does your product connect with your customer or community?
I'm so inspired by the beauty of the prairies and it reflects in every piece of art I make, people really relate to it. They have either been to a place on one of my maps or have a homesick friend that could use some local art. It brings the prairie pride out in people.
What are some of the typical questions or interactions you have at markets and what are your responses?
A lot of people ask if my maps are hand drawn or digital, the answer is hand drawn! All my maps start with a good pencil, a ruler, and of course an eraser. ​
What was your most memorable experience with a customer?
I have had the pleasure of working with a lot of amazing people creating custom art work, every customer has a special story that I cherish, but one of my favorites has to be a lady to who asked me to paint her late father's pet moose. Painting in honour of her father and hearing stories of her father and his pet moose Rollie was pretty memorable. ​
What was your biggest challenge you faced when starting your handmade business?
Saying "No!" When you are first starting out you want to try and do everything, but finding a balance is important so you continue to love what you do. ​
What advice would you give a maker who's just starting out?
The oldest saying in the book, working hard pays off. What you put in is what you will get out. Take care and time in creating a brand and logo, it is the first thing people see. Get involved in local markets. It's a great way to meet your customers and other local makers. Remember everyone gets negative feedback. It is part of sharing something you have made with the world. Take it with a grain of salt and learn from it but always stay true to your art.
Visit Dimi Gallery's Facebook page and Instagram feed.