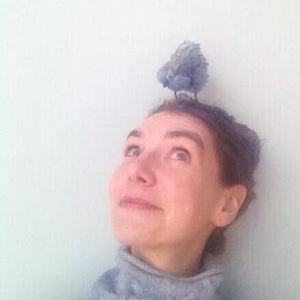 "It is wonderful to spend time working with my hands. There is a certain kind of inner peace to be found getting lost in the making process."

Jodie, Little Wing Odd Birds
What's the story behind your shop's name?
My very first birds were made out of odd bits of my leftover knitting supplies. They were definitely some very odd looking birds! Odd, but endearing so I kept on, and kept the name. ​
What's the most favourite thing you've made and why?
I like the Twisted Chickens. Not long after I first opened my Etsy Shop, I adapted my wool bird to represent a chicken. The development of this design variation made me feel confident in the creative potential and possibility for growth in my bird making venture. Plus, I just really like chickens!
What was your most memorable experience with a customer?
Every chuckle and smile from customers and even non-customers is memorable to me. I feel really lucky to be the maker of something cute that often causes people to laugh and smile. ​
What's the most difficult part about what you make?
Managing my inner critic. Tough bird, that one. ​
What advice would you give a maker who's just starting out?
Don't be afraid to make provisional decisions and then revise those decisions as you learn and grow. Keep going. ​
In two sentences or less, describe what it is that you do if you met someone interested in what you make?
Maker and seller of Odd Birds, Twisted Chickens and Messenger Birds. Small bird sculptures hand-fledged from wool, wire and winter nights in Winnipeg.
What do you love most about what you make and being a maker?
It is wonderful to spend time working with my hands. There is a certain kind of inner peace to be found getting lost in the making process. Support from my customers is incredible. They find meaning and value in what I do and purchase what I make! It's like an extra bonus egg on top of an already beautiful nest. This form of connection is very rewarding. ​
What sparked your decision and motivated you to start becoming a maker?
I've always experimented with making of all kinds. With these wool birds, my creative expression and season of life are well matched. This is the first time I've made a business of my artistic skills. It's the perfect thing for me to be "making" right now and I am thankful that these birds flew into my days…and nights. ​
How does your product connect with your customer/community?
Birds are powerful symbols. I feel like I've only just begun to appreciate the breadth and depth of their significance. I have noticed that people are drawn to my product for a variety of reasons. For example, sometimes customers share a bit of their own personal bird story with me as they select a bird to represent it. This flock of wool birds would not exist in the form they do today without feedback from the community I make them for. It feels collaborative to me. ​
What are some of the most asked questions that you get at a market and what are your typical answers?
Q: How did you come up with this?
A: I saw something online that inspired me to try this craft... and then I played and made and tried and failed and re-tried and experimented until I came up with this method of making birds that I am now very proud to share. ​
Visit Little Wing Odd Birds' shop, Facebook page, and Instagram feed.