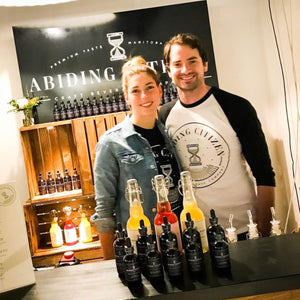 "To be part of someone's day even in a little way has been a big surprise and really touching."

Teri-Lynn and Chad, Abiding Citizen
What's the story behind your shop's name?
The short story is that we were inspired to make our product and still abide within the Manitoba Liquor Laws. We're also playing on the Prohibition vibe and feel and so that's where Abiding Citizen came from. All of our products are alcohol free and still delicious so you can obey the law and still have a good time. The long story is that Abiding Citizen was originally Karl and Chad's Bitters and Shrubs. Two bff's enjoyed making drinks together and wanted to take it to the next level. I (Teri-Lynn) didn't think that was a snazzy enough name for their company to go far. Leave it to the wife to be the critical one. So Karl is a lawyer and Chad wanted to work within the current liquor laws here in Manitoba. I started brainstorming names and thought of Law Abiding Citizens because of the whole law connection and the fact that we're avoiding alcohol kind of like in prohibition. But Law Abiding Citizens felt too long. I brought it to the group (there was originally four of us) and we paired it down to Abiding Citizens...and then Chad suggested to drop the s and thus Abiding Citizen was born on a snowy January day.
What's the most favourite thing you've made and why?
I think the shrub is the best thing to make because it's the most inclusive of our drinks. Everyone can enjoy shrub- some of our most loyal customers are kids of parents in the market scene (haha!) But seriously, it gives us great joy to know that everyone can be included in a delicious drink experience no matter how you choose to have fun.
What was your most memorable experience with a customer?
I think it's pretty special when people have chosen to include us in their wedding celebration. We had a few couples choose to do that this summer and it really meant a lot (maybe because my sister was married this summer and you see how much thought and intentionality goes into the day and into each decision). To be part of someone's day even in a little way has been a big surprise and really touching.
What's the most difficult part about what you make?
The amount of time it takes to cut thousands of pounds of fruit.
What do you love most about what you make and being a maker?
The summer night market scene is where it's at. We've made a lot of friends and enjoyed getting to take in the amazing Winnipeg Market scene. We're pumped for next season already!
What sparked your decision and motivated you to start becoming a maker?
This is both a creative outlet and something that Chad and I can work at together!
How does your product connect with your customer/community?
We've been able to meet so many people at each of the Farmer's Markets or Pop up Markets. Winnipeggers are so loyal! We've appreciated seeing the different smiling faces and being invited into your homes and special gatherings.
What are some of the most asked questions that you get at a market and what are your typical answers?
Q:What are shrubs?
A: Shrubs are fruit and vinegar based concentrates that are used to create dry drinks or cocktails. It's the easiest way to make an impressive cocktail that looks like you tried way harder than you did.
Q: What are bitters?
A: Bitters are the salt and pepper of the cocktail world. Use them as you would salt and pepper on food. Typically if a drink tastes overly sweet or sour a bitter is the perfect additive to balance out the beverage.
What advice would you give a maker who's just starting out?
Start before you have all the answers. You'll figure it out as you go. If I'd known half of the stuff I'd have to do I probably never would have gone for it but now that it's behind us we're excited for year 2!
In two sentences or less, describe what it is that you do if you met someone interested in what you make?
We make small batch bitters, shrubs and syrups that help you build a better beverage. Simply pour, mix and serve our product for a delicious drink experience.
Visit Abiding Citizen's shop and Instagram feed.