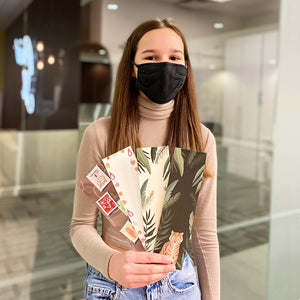 "I get a lot of inspiration from everything I see: nature, social media platforms, and other really talented artists." – Yuliya, yuliiyadesigns 
Who are you, and what do you make? 
My name is Yuliya, and I'm a 15-year-old student at the Seven Oaks Met School. I'm passionate about art, design, photography, and entrepreneurship. I design and sell  bookmarks, notepads, and notebooks through my brand, yuliiyadesigns. 
What's the inspiration behind your designs?
I get inspiration from everything I see: nature, social media platforms, and other really talented artists. Drawing in other places around the community and outside really inspires me as well. I love to experiment with my design styles, but I would say my designs are mostly cartoonish, animated, cute, and soft.
What's your favourite thing you've made so far? 
My favourite things would probably have to be the notepads. They can be used for so many things. The bookmarks are nice too because they're good for many different types of audiences.
What's the hardest part about making your products?
The hardest part would probably have to be the different audiences. You want to try to reach as many people as you possibly can with your products. But it's hard to please everyone.
What does it mean to you to be a part of Made Here?
It's a really good opportunity for me and my future business to get myself out there. It's just a really cool experience. I get to know a lot of people, see new makers, and get inspired. I can learn a lot from them. 
What sparked your decision to become a maker?
My passion for entrepreneurship started when I was in eighth grade. I made these customizable bookmarks for a market we had at our school and it made me so excited for the whole entrepreneurship/design thing. I love making, making people happy, and selling products, so being part of the maker store is really cool.
How do your products connect with your customers and your community?
They're all Manitoba-related things, so people who come from other places in Canada or other countries can buy them as a little souvenir for themselves or their kids. 
What's the most common question you get about your products, and how do you answer it?
People ask who my designs are for. They're for everyone! All ages.
What do you love most about what you make?
The whole learning experience. Making connections and getting to see people happy. I love the design part because I love designing and getting to see an idea become a product. It's really cool. 
What are your hopes and plans for the future of your business?
The next step would be branching out and trying to make new products. I want to experiment with different art styles. I always want to make art that I'm passionate about and sell products that are exciting to make. I'll continue making and designing my weekly planners. I want to help people with their time management skills and give them a fun and interactive experience using the planners. 
The ultimate goal for my business is to make people happy. 
Fun Fact: Yuliya designs and prints her products at Print Shop by Vantage, where she also worked as an intern earlier this year! 
Check out Yulia's collection here!